Enhance your field guide course (nqf2)
Pass Exam • Save Money • Reduce Stress • Enjoy Wildlife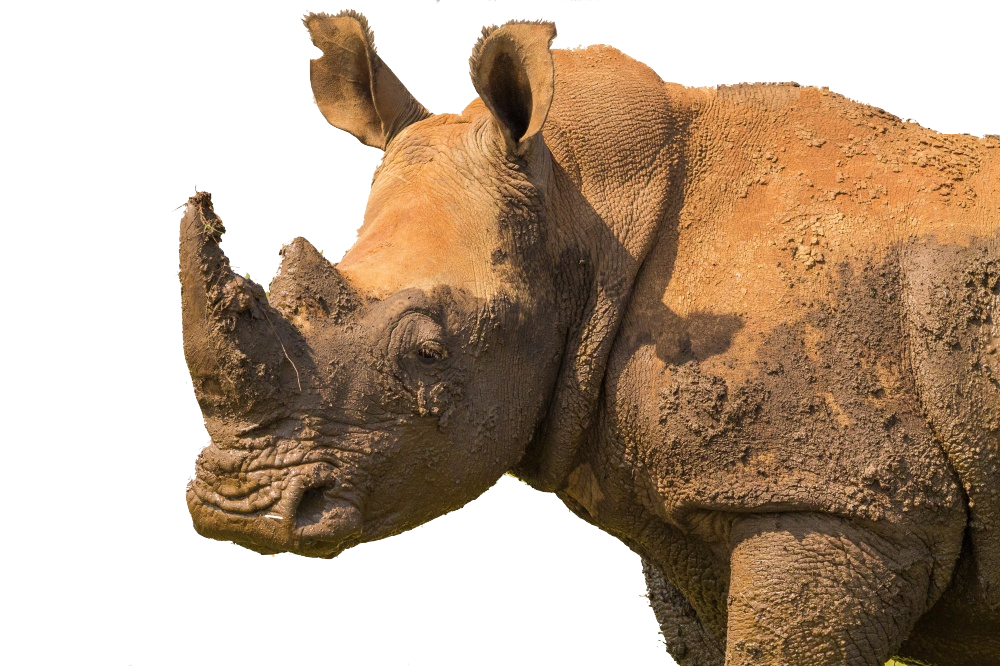 🇩🇪 Buche deinen Kurs über uns und erhalte das eBook kostenfrei als exklusives Geschenk.
100% MONEYBACK GUARANTEE
60 days after purchase
No matter if you are starting a new career, doing a sabbatical, taking a gap year or just want to reconnect with nature. A field guide course is definitely a great choice.
Being out there in the bush and becoming a Field Guide may be a life changing experience, but not for everyone. Especially the first weeks are overwhelming and stressful. During every course students burst into tears or even drop out. 
This eBook was made to lead you through this challenge, supporting you with exactly what you need before & during the course. The eBook allows you to concentrate on what really counts: Enjoying the wildlife as much as possible.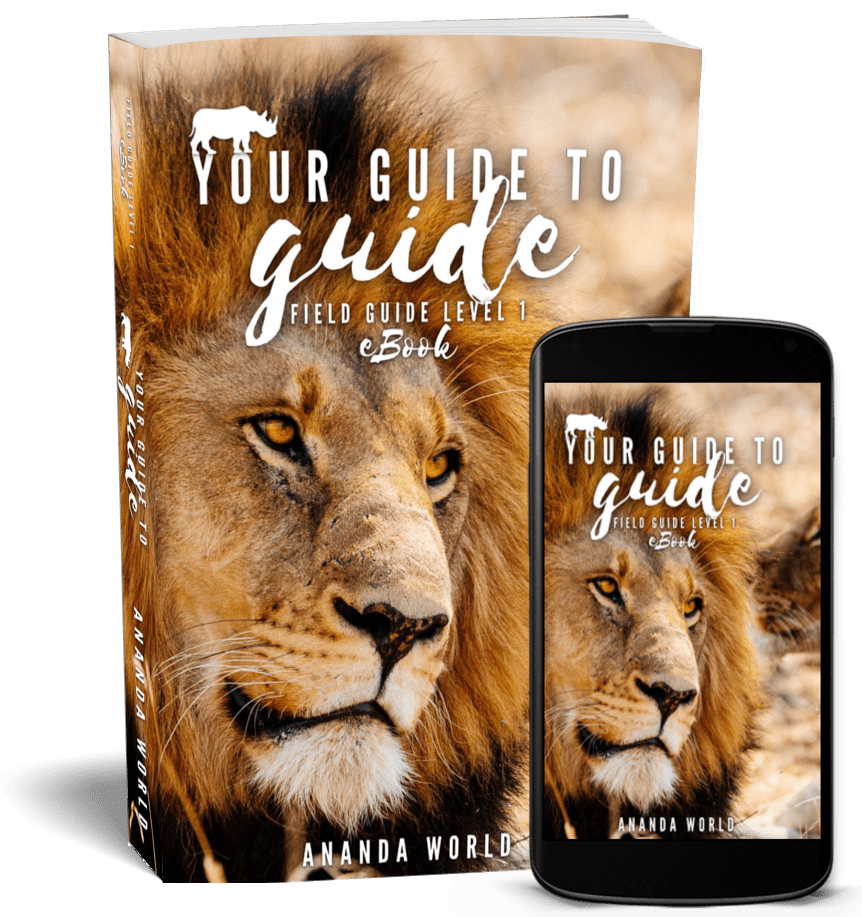 Compacted lectures
For you we summarised all of the 17 theory modules on 52 pages. This eBook provides compacted informations and focuses on the important core. With its help you are best prepared for the theory exam.
Flashcards for easy learning
These flashcards were the key during our course to learn informations about all the 105 birds, 27 mammals, 27 reptiles, 25 arthropods, 12 amphibians 62 trees and 19 flowers and 16 grasses. We reviewed each card and added some more for all practical tasks and a Q&A. You can either print your flashcards or learn directly on your device of choice.
Preparations
The eBook answers the questions most students have prior the course. What do you really need to bring, what are the assessments like, what can you do to prepare yourself best, which books and apps are necessary, which not. With this tips you can easily save money and a lot of time prior and during the course. Furthermore it is the perfect tool to produce best results.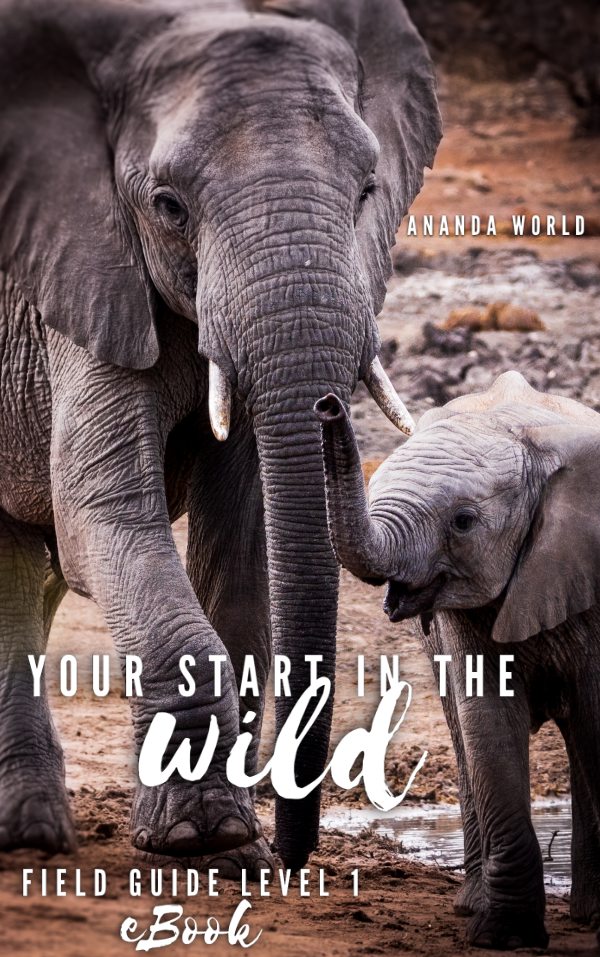 Be smart
Don't spend your time sitting in your tent studying all night long instead of sharing stories around the campfire. You still have to learn anyway but the eBook gives you more space for enjoyment. The exams are difficult and will challenge you, especially if you are not a native speaker. The price of this eBook will pay off tenfold.
This eBook was made with the purpose to help you on your way and challenges best. Maybe you struggle with your english, or not learning so fast new topics. Maybe you want to build up a new career with best results. Or enhance your sabbatical or gap year. No matter what, this ebook was made for you. To serve you in the best way. To prepare and support you every day. It will be your best friend on that journey.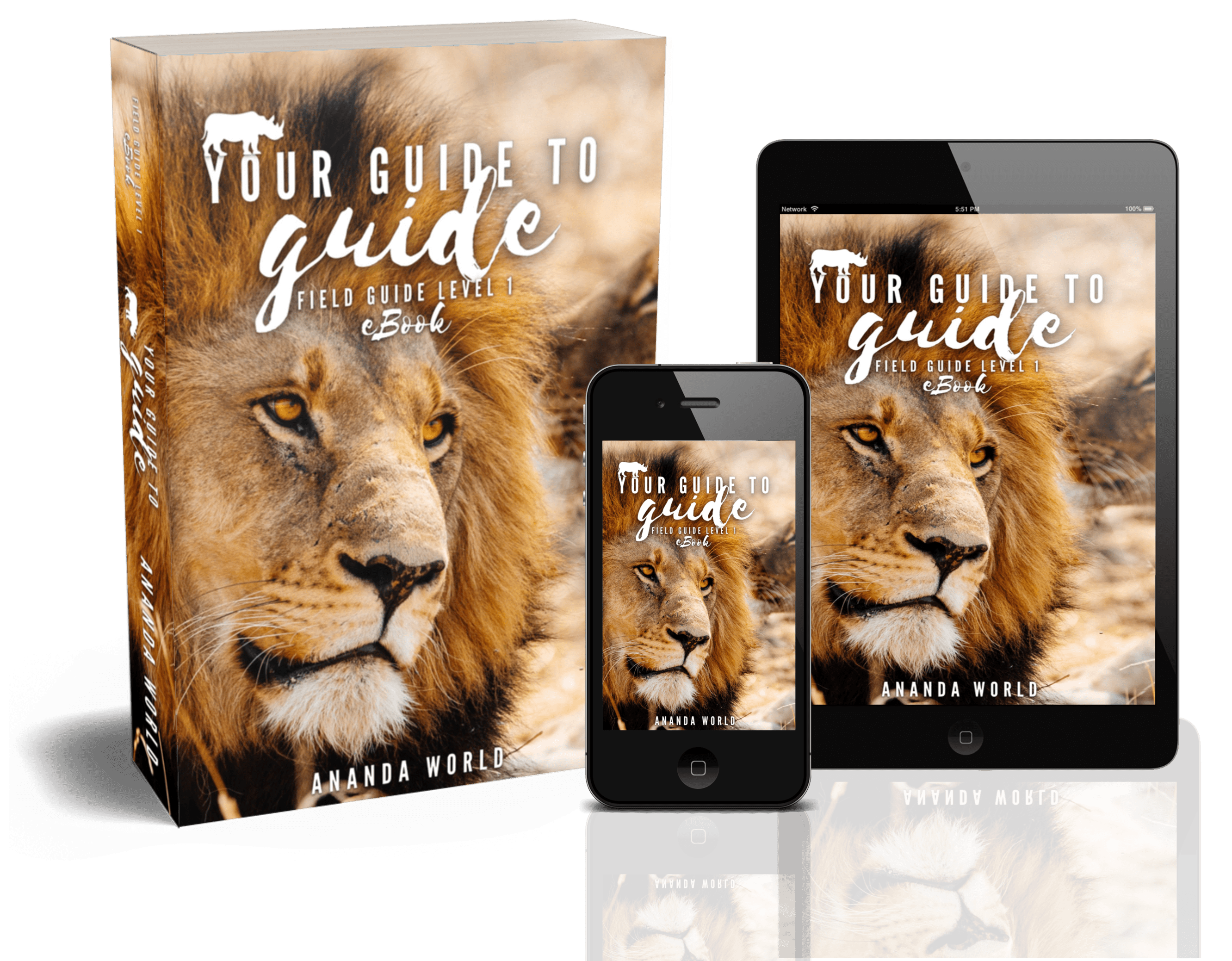 More time
This is the main advantage for you. You will have more time to enjoy the wildlife and less nights studying in your tent.
Lower Costs
Most students buy equipment, books & apps that they never use. We help you to save a lot of money, buying only what you really need.
Less Stress
Knowing about the course schedule, requirements and all the different assessments helps you to reduce stress.
Better results
To be prepared for your assessments we designed over 111 Flashcards for all the animals and plants as well as 120 Questions & Answers.
Improvement
You have the chance to be best prepared for this. It will increase your personal improvement during this unique wildlife experience.
FUN
After the course there will be just one thing to regret: to overworked and stressed. Enjoy it. Every moment. Every day.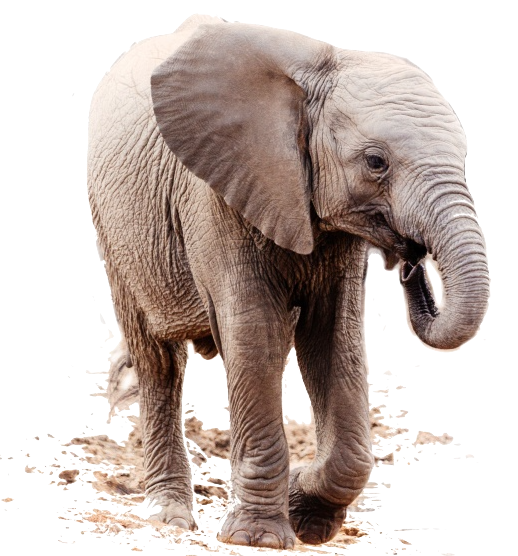 Your new best friend is waiting for you
On 55 days this ebook will be good company and carry you safely through the hard first weeks and the stressful exam period.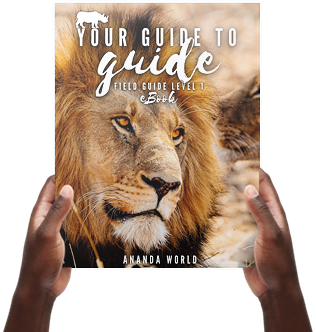 What to expect
This compact guide will support you before and during your Field Guide Level 1 Course in Southern Africa. It includes everything we think you need to have more time during the course so you can enjoy this life-changing experience in the bush as much as possible. The information in this book are exactly what we learnt during our course. It is our aim to help you through your FGASA exam and assessments.
In the first part all the theory lectures you will have during the course are summarised. The focus is on understanding the essence of each topic. It works together with the 'Flashcards I. – Theory Q&A'. There you will find questions and answers that you can use to test your knowledge. It will make it much easier for you to pass your assessments. 

The second part provides information of each Animal and Plant you need to know. It works together with 'Flashcards II. – Practice'. Here again this book concentrate on the core information you need for your assessments and furthermore it gives you some really interesting facts you can make use of in the practical assessment.
The third part is to prepare you best for the course, what to expect and pack as well as our book and app recommendation. Read this chapter first to be prepared. You can safe a lot of money. It also gives you an overview about the qualifications you need to fulfil before your exam. This chapter prepares you for the practical assessment and the FGASA exam.
For you we have some pretty cool bonus material. We really hope it helps you to rock this course. The bonus chapter contains the flashcards you really should print and take with you on the course. Furthermore a detailed packing-list to have everything you need but not to much. At last but not least we present you an easy and nice opportunity how you can use this book to pay itself off and more.
Please enjoy the course and stay wild.
Disclaimer: All this information belongs to our course in September/October 2019. We try as good as possible to update this guide and hold the course content up to date. Anyway we cannot guarantee that all the information is and stays valid. Please check together with your Learner Training Guide that you will receive at the first day in camp about the course syllabus and official content of your particular course. 

Outline
I. Lectures 
Module 1 – Guiding skills 
Module 2 – Geology 
Module 3 – Climate & Weather 
Module 4 – Astronomy 
Module 5 – Ecology 
Module 6 – Biomes 
Module 7 – Taxonomy 
Module 8 – Plants 
Module 9 – Arthropods 
Module 10 – Fish 
Module 11 – Amphibians 
Module 12 – Reptiles 
Module 13 – Birds 
Module 14 – Mammals 
Module 15 – Animal behaviour 
Module 16 – Conservation & Habitat Management 
Module 17 – Historical Human Habitation 
II. Animals & Plants 
Mammals & Alarm Calls 
Birds & Nests 
Amphibians 
Snakes & Reptiles 
Arthropods 
Trees 
Grasses & Flowers 
Easily learn with Quizlet 
III. Preparation 
Before the course 
What to expect
How to prepare 
Books and Apps 
During the course 
Workbook 
Theory Review Tests
Research Assignment 
Field Observations 
Formative practical tasks 
End of the course 
Open Written Theory Exam 
FGASA Exam 
Electronic Assessment 
Practical Assessment 
IV. Bonus 
Flashcards 
Flashcards I. Theory Q&A (120 Questions & Answers)
Flashcards II. Practice (116 Flashcards)
Packing List 
Cost Calculation 
Recommend & Earn money with this book 
Thank you
Appendix 
Example from I. Lecture (Small Preview of Module 2):
Module 2 – Geology  

 
Definition: 
Geology is the study of the earth including origins, history, structure, materials which it is composed (minerals and rocks) and processes acting on them.
Topography is the study of the land and weather features of an area.

 

Minerals are naturally occurring inorganic crystalline substances.
Why is the understanding of geology important for a guide: 
The structure of rocks determine the type of soil. The type of soil (and its interaction with the climate) determines the type and growth of plants. The type of plants determines which herbivores occur and therefore also the carnivores in this area.
Composition of the earth: 
Crust, mantle, outer core (liquid), inner core (solid)

Components are various proportions of chemical elements such as iron, nickel, oxygen and aluminium

Two main factors shape the earth:
1. Gravity (pressure)
2. Temperature (heat)
Common rocks:
As a guide you have to know the common rock types occurring in your area of operation. In the following table you will find an example of two common rocks.
Granite

Basalt

Intrusive igneous: cooled slowly (large crystals)

Forms sandy, coarse-grained soils

Soils are acidic an nutrient-poor

Weather resistant

Is associated with large leaved trees

Minerals: e. g. quartz, hornblende

Extrusive igneous: cooled quick (small crystals)

Forms clayey, fine grained soils

Soils are alkaline and nutrient-rich

Easily weathered

Is associated with large leaved trees

Minerals: e. g. olivine, magnetite
This is the end of the preview. In case of questions please contact us via eMail: ananda.world@outlook.com
We wish you an awesome field guide experience. Do not forget to enjoy this unique time.
Our promise to you:
Satisfaction or 100% money back
If you are not fully satisfied with your eBook in the first 60-days after purchase you will get your money back. We believe in sincerity and pursuit of satisfaction of our customers.
Disclaimer: All the information in this eBook belongs to our course in September/October 2019. We try as good as possible to update this guide and hold the course content up to date. Anyway we cannot guarantee that all the information is and stays valid. Please check the course syllabus and official content of your particular course.  
100% MONEYBACK GUARANTEE
60 days after purchase
To whom this eBook was made
You booked the field guide level 1 course (NQF2) with EcoTraining?
→ Perfect, it is made for you.
You are not sure about your nature knowledge, english skills or other handicaps?
→ This eBook is perfect for you. You will have an advantage and can start preparing now.
You are fluent in English and you already have a basic knowledge about animals, plants, geology, ecology and astronomy? 
→ Not needed. You will be fine in the course with that preconditions. The eBook is optional to enhance the experience.
You booked a field guide course with another company (not with EcoTraining)?
→ Partly consistent. The assessments and the FGASA exam are equal, as well as the content you need to know. But we cannot guarantee that the eBook fits to your course .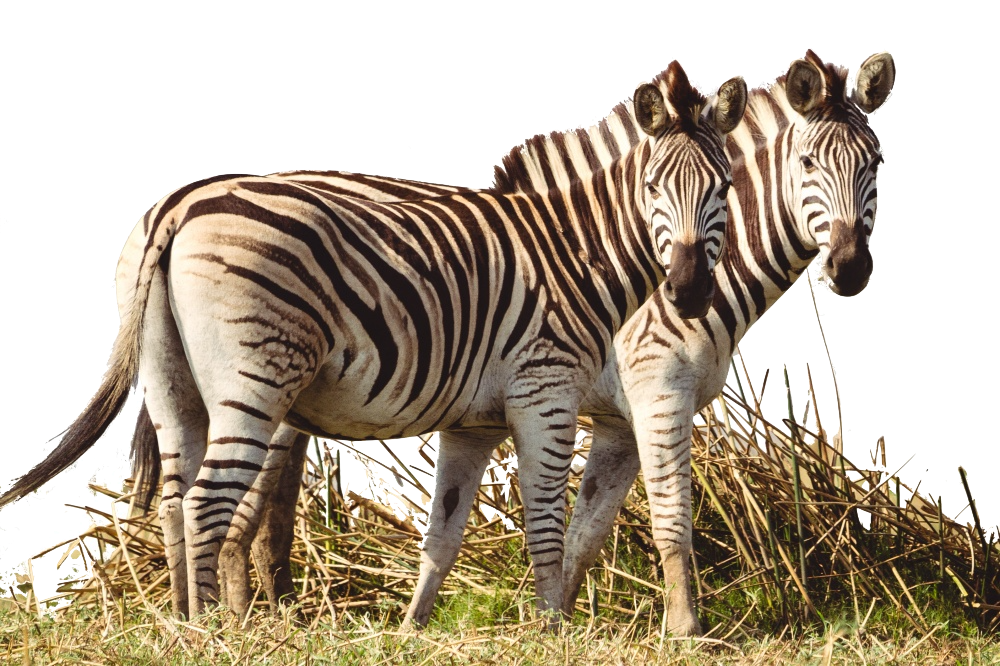 Some months ago I bought the ebook 'field guide level 1 – your guide to guide' from Madeline and Michi and it is exactly what I was looking for for a long time.
It's so much fun reading the different modules. It's written in an easy way and it is so interesting! I haven't done the field guide course yet but I'm sure it's a great way to prepare for it and you'll have a lot more time to enjoy your time in the bush when you are already a bit prepared for it.
Besides the ebook, you also get over 200 flashcards to check your knowledge. I can reccomend the ebook for everyone who is interested in africas nature, wildlife and everything what belongs to it! have fun reading and studying?
Insights
Some example pages from our ebook: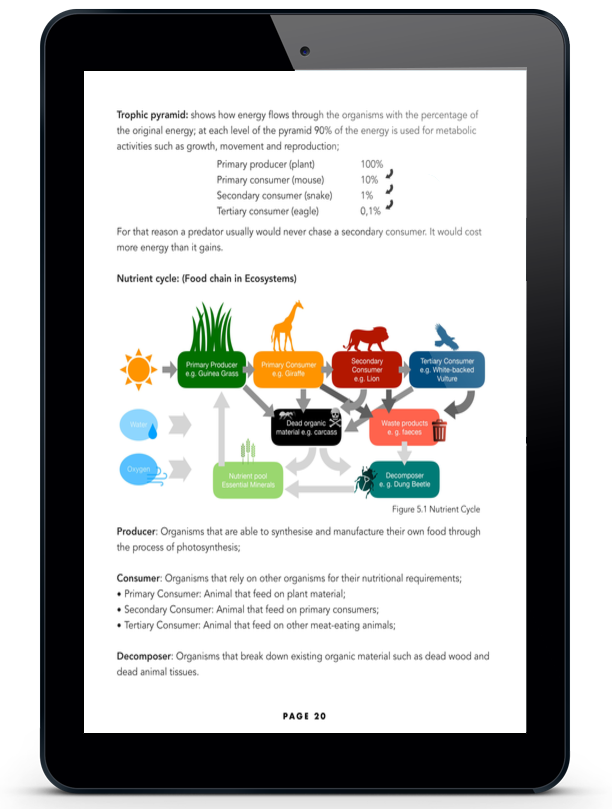 How energy flows in nature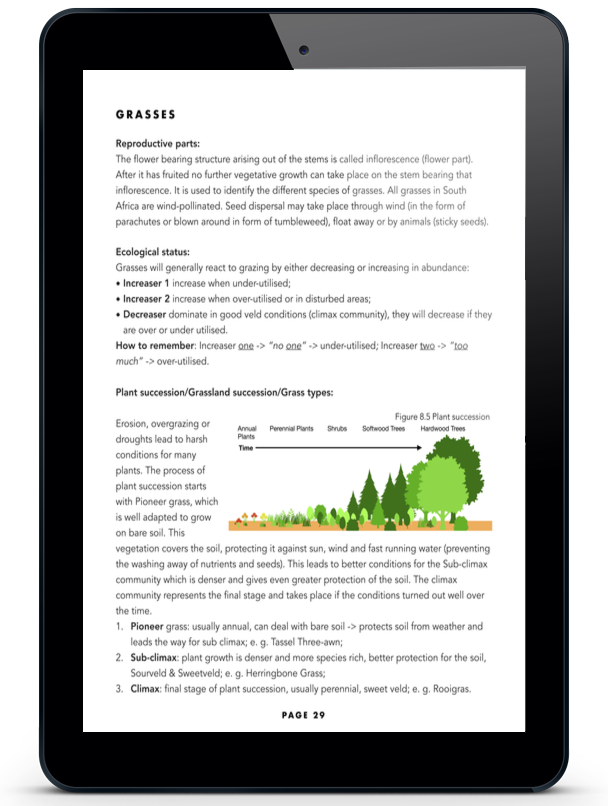 Grasses & Grassland succession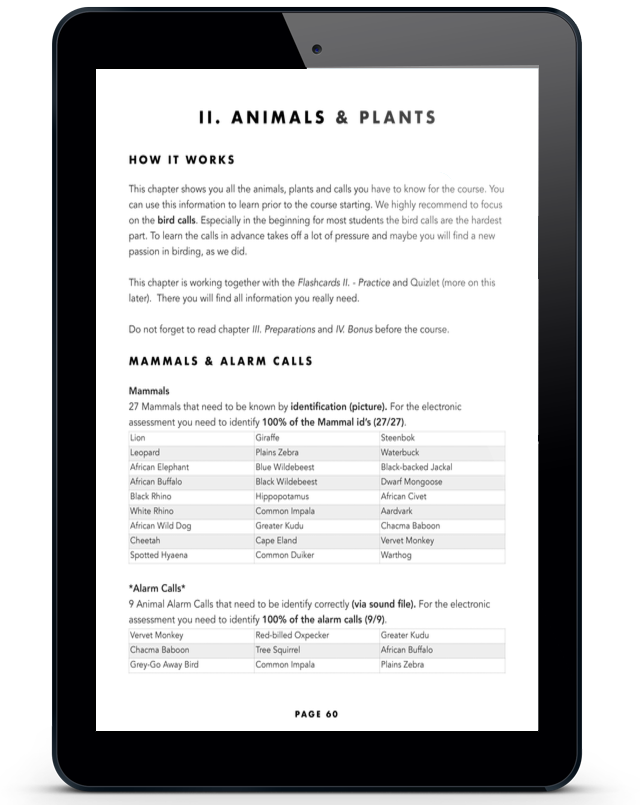 All Animals & Plants you need to learn & how to prepare best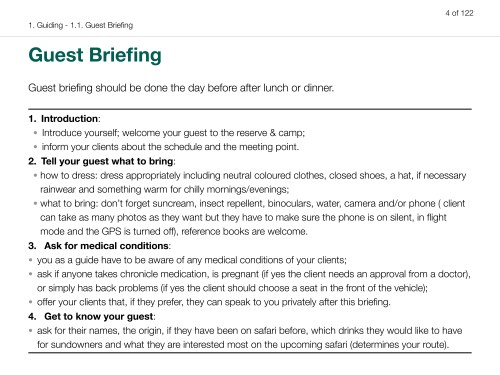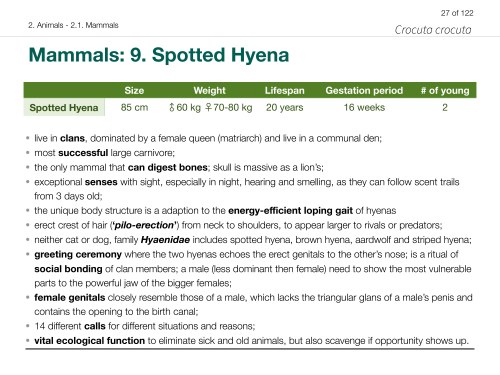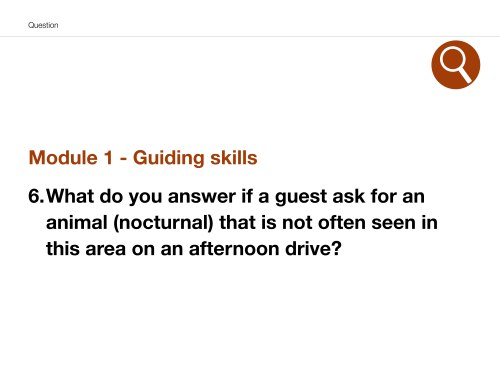 Over 200 Flashcards with all you need summarized, from guiding to animals/plants and some Questions & Answers for your Theory Review Tests and FGASA Exam.
The Community
Join our Facebook Group for Field Guides, to share knowledge and meet others.
Cooperations & Affiliates
You like the eBook? You work for an travel agency or your are student on a field guide course with EcoTraining?
Recommend the eBook to future field guides and earn 40% commission per sale. We are looking forward to cooperate with you.